Atriox
Atriox is a private company specializing in digital media technologies
We offer complete solutions for streamlining and automating your daily tasks. A low cost and high quality starting point is smart lighting. Take your first step with the Philips Hue White and Color Ambiance Smart Bulb Starter Kit
Recommended App for Philips Hue LED Lights
Get unprecedented control over these lights by using the Hue Lights app.

Once you have the Philips Starter Pack and a BR30, GU10, LightStrips, or Bloom, you need the Hue Lights app for the best control. There are several third-party apps for controlling your Hue LED bulbs. If you have a large number of Philips LED products, you should definitely try the Hue Lights app available for iPhone, iPad, and iPod Touch.
Get the latest Philips Hue Smart Hub to get started.
Important Announcements
The original, round Philips Hue bridge that was introduced in October 2012 reaches its End of Support on April 30, 2020. Signify, the company that develops and maintains the bridge, will no longer release software updates for the v1 bridge. Remote access via the v1 bridge will also be terminated. You can still use this old hardware with the Hue Lights app, but for the best experience consider upgrading to the newer, square, Hue Bridge v2. For a better value check out some of the bundled starter kits below that include the Hue Bridge v2 and bulbs.
Upgrade Your Hue Bridge
Here are more details on the Hue End of Support policy for the older, round, Hue Bridge v1.
Available Apps for Philips Hue Lights
Many iOS and Android apps are available to control the Philips Hue LED Lights. Depending on your usage some apps may be better suited than others. Here is a breakdown of required functionality and recommeded app:
Do you have Hue Lights? Are you looking for great Philips Hue apps? You can try a great Philips Hue app for free by downloading Hue Lights from the App Store today! Do you need Philips LED bulbs, more LED lights, Hue LightStrips, Hue bulbs including BR30, A19, and GU10? Take a look at all of the Friends of Hue Philips products available at Hue Lights.
There are several third-party Philips Hue apps available. Search for Hue Lights on the App Store for some excellent LED lighting apps. It is best to try the free Philips Hue apps first to make sure they work in your environment. The Philips LED bulbs can be remotely controlled with one of the best Hue apps, Hue Lights, using your iPhone, iPad, or iPod Touch device. Philips LED bulbs consume just 8.5 watts for the A19 model and produce 600 lumens. The Philips BR30 model uses just 8.0 watts and produces 630 lumens. Controlling the Philips Hue LED bulbs is easy with Hue Lights and your iOS device. LED lights can save you a lot of money and improve your quality of life. Using an advanced light controller similar to Hue Lights is the best way to control Philips Hue LED lights.
When searching for a Hue app or deciding whether to purchase the Hue Starter Kit, read a Philips Hue review from a trusted third-party source and also read user comments posted for both the Hue hardware and Hue software. Definitely try the Hue Lights third-party app for controlling Philips Hue and all of the supported Friends of Hue products. Are you still thinking about buying Philips LED bulbs or the Philips Hue system? Check out some YouTube videos to see how colored LED lights would look in your house. A very good Hue app that is free to try is Hue Lights. Version 1.1 of Hue Lights includes dynamic light animations, choreographed audio/visual scenes, flexible group sharing, and background light animations. Your LED lights will come alive with one of the best Hue apps available, Hue Lights.
Download Hue Lights today and experience Philips Hue with a great Philips Hue app that has excellent support for starter kits all the way up to very large Hue deployments. Read a Philips Hue review, watch some demo videos, and then try a light controller that will optimize your Hue Lights investment. What is the best Hue app? We highly recommend Hue Lights by LapApps, LLC. Your Hue bulbs will be happy with this excellent light controller.
Do you plan to use Philips Hue Tap or Hue Lux? If yes, then you should prepare by downloading Hue Lights from the App Store today! Your Philips LED bulbs will love this third-party Philips Hue app. Check Hue Lights for supported hardware as it becomes available. Once you install a number of Hue lights, you will notice a sudden drop in your electricity bill. You can use this savings to buy the full-version of Hue Lights and more LED lights, especially A19, BR30, GU10, Lux, LightStrips, and Bloom. These Philips Hue lights have slightly different characteristics, so check the description to ensure they meet your needs.
A risk-free way to have an awesome Hue lights experience is to download Hue Lights from the App Store and then purchase your desired Philips Hue hardware from Hue Lights. Philips LED bulbs are expensive, but the electrictiy savings and long life spans will save you money in the long run. Definitely replace all of your incandescent bulbs with LED lights. For rooms that you use a lot consider Philips Hue lights for 16 million color combinations, 255 dimming levels, remote control, and advanced third-party app control from Hue Lights. Each Hue light you add will save you money and give you a wide range of lighting environments for your room. Philips Hue is the leader in the market, so pick this extremely popular, low power, colored LED bulb and watch it come alive with the Hue Lights app!
All of your future light bulb purchases should be Philips LED bulbs. For highly used rooms, try the Philips Hue Starter Pack and additional A19, BR30, Hue Tap, LightStrips and Blooms. These Philips light bulbs can be controlled with the third-party Hue Lights app. Each Hue light you add to your system will reduce your energy consumption and carbon footprint. This is a fun way to save the planet one light bulb at a time. Download Hue Lights today and change your life forever!
Best App for Philips Hue LED Lights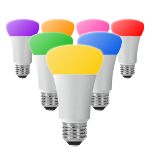 As seen from the above feature/app table, we highly recommend the "Hue Lights" third-party app for iPhone, iPad, and iPod Touch. This app gives you fast, accurate, and complete control of your Hue Personal Wireless Lighting System. Create personalized categories, scenes, and favorites. Access frequently used lighting scenes with just one tap. Set up your favorite colors with precise control over all possible light attributes. Apply favorites to lights, scenes, and groups for quick set-up and changes. Organize categories and scenes to match your unique configuration.
---
© 2013-2020, Atriox. All Rights Reserved.